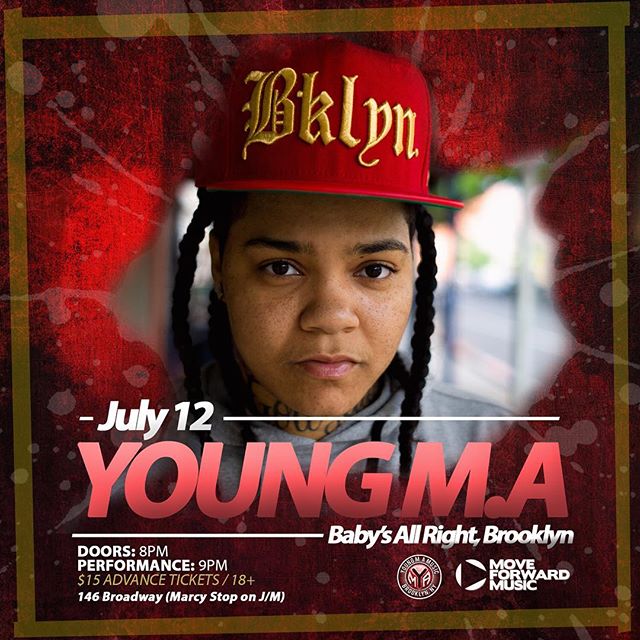 Young M.A, straight from Brooklyn, has shown her boss-a$$ bars with her Chiraq Freestyle "Brooklyn" as well as in her latest single, "OOOUUU." She recently performed at the Highline Ballroom, to show her support for Freddie Gibbs and now she be heading back to Brooklyn. If you're a fan of Young M.A, you're in luck – Respect. Mag is bringing back a pair of free tickets for YOU to see her live on July 12th at Baby's All Right, in Brooklyn, her hometown.
Two simple rules to follow and you could be the winner of these tickets:
Follow RESPECT. Mag on Twitter (@Respectmag)
Follow Young M.A on Twitter (@YoungMAMusic)
The lucky winner of this pair of tickets will be informed on July 10th, through DM on Twitter.
Unfortunately for fans that aren't in New York, she isn't touring anywhere else at the moment. And if you don't win, no fear, you can purchase a ticket to see her here.
Also, for those who aren't familiar with Young M.A, check out her recent dope freestyle rap at Funk Flex Freestyles on Hot 97.
Suggested Articles:
You might also like
---
More from Contests
---
Wednesday night (Jan. 22) Young Thug and Kevin Liles announced that the winner of the "Hot" Battle of The Bands Challenge - Florida A&M University …
https://youtu.be/Xx58YDAM8jQ Whether at home in a parking lot cypher with his homies in his native San Fransisco, or rocking the stage …
Rémy Martin presents 'Rémy Producers' sixth season with Jermaine Dupri as the face of the program. 'Rémy Producers'is designed to discover and …
Editor Picks
---